Hello, everyone!
My name is Paula and I live in Rio de Janeiro, Brazil. I have been a contributor of this site at regular intervals by sharing with you all what I have learned through the last few years, since 2010, when I decided to have a blog on silent films. I have always been interested in history and comparing past and present has always been a fascinating experience for me. Two years ago I wanted to have a blog on films and after googling classic films, I realized there are already many great sites handling classic talkies, but I found out there was a gap when it came to silent films. They were either sparsely spread in the middle of talkie reviews in sites on classic films or had a limited number of sites devoted specially to them. In order to change that, I decided to disclose some silent films that other people kindly made available on line. My intentions have always been rather modest, but fortunately things were much beyond that. I couldn't really know that a totally new world would open up for me, I´d meet very nice friends both on line and in the real life with the same interests and I would learn so much about the influences those silents still have in our lives.
In general lines that's how it all began. Of course that none of the words above are an introduction to myself. I´ll keep on talking about me and my interest for silent films, but at least in the beginning I prefer to focus more on films themselves than on me. After all, I assume all of us have a special passion for cinema and arts in general and that's what we want to learn about.
Before I continuing posting anything else related to the silent era and its films and stars I found it would be appropriate if I made a small introduction on the topic for those who would like to know more and browse through some silent links on the web.
Here you are some blogs, sites, tumblrs, etc. that can give you a very good idea about what the so-called silent era is all about. Most sites are in English, unless otherwise stated. This list only have some suggestions on material to be researched about early cinema, so it has no intention to be a comprehensive list, just some random suggestions, and there's certainly much more materials available either on line or in paper books to be read about this fascinating era in history.
More will come, buddies. So, sit down, feel comfortable and let's travel in our own special time machine. Thanks for your reading and I will do my best to return your attention to my writings with as much good and deep information as possible.
On tumblr:
On blogspot
Forums
1.Nitrateville http://www.nitrateville.com/
Sites
Books
Books on Silent Film ( A list from silentmoviecrazy.com )
1. American Animated Films: The Silent Era, 1897-1929 by Denis Gifford (McFarland - 1990)
2. Aspects of American Film History Prior to 1920 by Anthony Slide (The Scarecrow Press - 1978)
3. Classics of the Silent Screen by Joe Franklin (The Citadel Press - 1959)
4. Eighty Silent Film Stars by George A. Katchmer (McFarland - 1991)
5. Hollywood: The Pioneers by Kevin Brownlow (Alfred A. Knopf - 1979)
6. In the Kingdom of Shadows: A Companion to Early Cinema by Colin Harding and Simon Popple (Cygnus Arts - 1996)
7. Lost Films: Important Movies That Disappeared by Frank Thompson (Citadel Press - 1996)
8. The Parade's Gone By by Kevin Brownlow (University of California Press - 1968)
9. Seductive Cinema: The Art of Silent Film by James Card (Alfred A. Knopf - 1994)
10. The Silent Clowns by Walter Kerr (Alfred A. Knopf - 1975)
11. Silent Echoes: Discovering Early Hollywood Through the Films of Buster Keaton by John Bengtson (Santa Monica Press - 2000)
12. Silent Era Filmmaking in Santa Barbara by Robert S. Birchard (Arcadia Publishing - 2007)
13. Silent Film Necrology by Eugene Michael Vazzana (McFarland - 1995)
14. Silent Films, 1877-1996 by Robert K. Klepper (McFarland - 1999)
15. Silent Movies: A Picture Quiz Book by Stanley Appelbaum (Dover Publications - 1974)
16. Silent Stars by Jeanine Basinger (Alfred A. Knopf - 1999)
17. Silent Traces: Discovering Early Hollywood Through the Films of Charlie Chaplin by John Bengtson (Santa Monica Press - 2006)
18. The Speed of Sound: Hollywood and the Talkie Revolution 1926-1930 by Scott Eyman (Simon & Schuster- 1997)
19. Twenty Years of Silents 1908 - 1928 compiled by John T. Weaver (The Scarecrow Press - 1971)
20. The War, the West, and the Wilderness by Keven Brownlow (Alfred A. Knopf - 1979)
There is also a list of books on silent films in Silent Beauties blog with their respective links on google books, so you can take a look at content of all of them. You just have to click the title of the books and you will be automatically transferred to the complete version of the book made av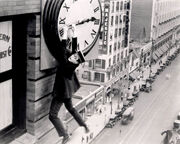 ailable in Google Books http://silentbeauties.blogspot.com.br
Ad blocker interference detected!
Wikia is a free-to-use site that makes money from advertising. We have a modified experience for viewers using ad blockers

Wikia is not accessible if you've made further modifications. Remove the custom ad blocker rule(s) and the page will load as expected.