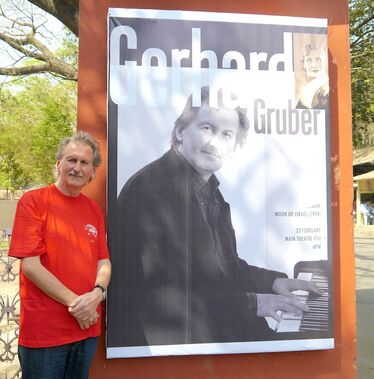 In February 2012, silent movie pianist Gerhard Gruber was invited to perform a second time in India. After playing in January 2011, he came back to Pune to perform again at the FTII (Film and Television Institute of India), at the NFAI (National Film Archive of India) and at the Mazda Hall (for Poona Music Society).
He was also invited by the NCPA (National Centre for the Performing Arts), which is the biggest cultural centre of India.
Gerhard Gruber played for Austrian Silent movies "Cafe Elektric", "Moon of Israel" and "Sodom and Gomorrha" as well as for the Indian silent movie "A throw of dice".
Photos (Slideshow)
The pianist and his cinematic muse
Edit
By: Hardik Vaidya Date: 2012-02-26 Place: Mumbai
Head to the NCPA for the screening of the classic silent film Cafe Elektric. Accompanying the screening, will be the music of Gerhard Gruber, a leading silent film pianist
In case you've watched The Artist and want to indulge more in the films of yore, when talkies were still a novelty and cinema completely silent, then head to the NCPA for the screening of Cafe Elektric on Wednesday. Made in 1928, this silent Austrian classic by Gustav Ucicky is among the top rated acts of popular actress Marlene Dietrich.
However, this isn't just any other screening. If it were, then we'd have suggested that you watch a DVD. The screening will be accompanied by a performance by Gerhard Gruber, regarded as one of the world's leading silent film pianists. Gruber will compose and play music while he watches the film with the audience.
Possibly the most unique characteristic of Gruber is that no two performances of his are ever the same. He believes in spot improvisation in his work every time he performs, since according to him that is the best way of a direct and continuous dialogue between the screen, the music and the audience. 

As Ilse Aichinger, the grand dame of Austrian literature had once succinctly put, "Those who listen to Gruber play the piano can once again trust their own breath." Gruber's modesty is also considered to be one of his greatest assets. According to many, his music is neither an exaggeration of the film, nor the "digestible-making" of an "old-fashionable" artefact. His music, far from being a simplification of existing work, is a partnership that never becomes boring.

Having worked as a pianist for screenings of over 450 different silent films across the globe, he admits that spreading the joy of silent movies accompanied with his piano pieces isn't easy. Coming to the defence of silent films, he says, "There is nothing missing in silent films, it is just a different kind of movie. The pictures are more beautiful and more interesting, because the focus is more on gestures and on expression." 

Gruber says, "Cafe Elektric is a favourite. I have a special love for it, and I also composed the music for the movie's DVD." Set in a cafe in Vienna, the film tells the story of Erni G ttlinger (Marlene Dietrich), the daughter of a rich construction entrepreneur (Fritz Alberti), who gets attracted to a pickpocket, Herr Fredl (Willi Forst). 

Meanwhile, another important character in the film, a young engineer named Herr Max St ger (Igo Sym), who assists G ttlinger, finds himself unable to focus on work whenever a young lady (Anny Coty) is around.
If you are a cinema and music buff then you wouldn't want to miss this event.
At: 7 pm, February 29, NCPA, Nariman Point