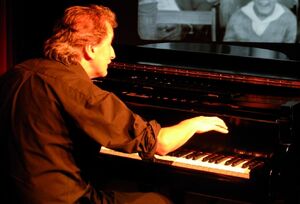 Gerhard Gruber
is an Austrian composer and piano player. As accompanist for silent movies he has become the leading authority in Austria since 1988.
The silent movie artist has performed for about 450 different films (LA Jewish Film Festival 2012, American Cinemateque/ Aero Theatre 2012, Mumbai-Pune/ India/ 2012, Washington-Los Angeles/ USA 2011, Delhi-Pune-Goa/ India 2011, Tokyo 2006/ 2007/ 2008 (Midori Sawato), Hobart/ Australia 2007-09, Rotorua/ New Zealand 2008, Padova, Motovun Film Festival 2007, Cineconcerts Bordeaux 2005, Filmfestival Pisek/CZ 2009/11, Filmfestival Uherske Hradiste 2009/11, Viennale 1999-2004, Munich, Hamburg, Diagonale).
Since 1983 Gerhard Gruber is working and performing as a composer and musician for theatre.

Awards: 2006: "Nestroypreis", 2008: "Landeskulturpreis Upper Austria"

As a basic principle he appreciates improvisation for his work as a silent movie pianist, which he regards as best way of a direct and always new dialogue between the events on the screen, the music and the audience.
So no performance resembles the others. Gerhard Gruber likes it to be enticed by the films again and again and to pass on these feelings to the audience. Cit.: ´For me the feeling of being amidst the events of a film story has been undescribable exciting from the first moment and is unchanged until today. This guarantees the liveliness and vibrancy of each performance.
It is always the unity of film, music and audience. And thus each presentation is able to be a special experience.`