Article by Paula Maricato - http://silentbeauties.blogspot.com.br/ and
http://www.facebook.com/pages/Silent-Beauties/336078943079637
Clara Bow
Clara Bow (1905-1965), the "It" girl of silent films, whose main characteristic was a vigorous and energetic acting, ended up being known as one of actresses who embodied the flapper girl best.
But who in fact was Clara Bow?
Born in a slum tenement in New York, the only surviving child of an attractive, but mentally unstable mother and a father who lived of odd jobs, she struggled hunger and hardships since the very beginning. Since she lived in extreme poverty, she was a tomboy and had to learn how to survive on her on.
Fascinated by films, she decided to try to work in motion pictures and made her way through a beauty contest. Her instinctive energy and natural acting skills shined in all films she participated. One of her most remarkable abilities was crying almost instantly upon request. That is probably the "it" charm she had.
On the other hand, her spontaneous, too honest and open manners weren't really liked in Hollywood. To make things worse, at the very beginning of her career she had a violent argument with no other than Colleen Moore about a role in a film. Moore was already a well-established star and she would have other enemies among the film crowd. To make things worse, she didn't adjust well to talkies. Her films were still successful, but she had difficulty to adapt her acting to the new technology and reportedly wasn't given as much time to train her voice as other Hollywood stars.
The hostility of some people towards her ended up giving rise to many urban legends about her life and sexuality. After years of overwork and ill mental health she married fellow actor Rex Bell, who later became a politician. The both had 2 sons in the 1930ies.
Yes, unfortunately towards the end of 1920ies she started suffering mental symptoms similar to the schizophrenia her mother had and it would be a problem to her through the rest of her life. She spent the last years of her life in a mental institution, separated from her family and supposedly underwent therapy through shocks, which was a common procedure to mental diseases on the first half of XX century. A sad end, for sure, but at least she could work with something she loved and has an eternal place in history through her art.
Interesting links to get to know more on Clara Bow:
http://clarabowarchive.tumblr.com/ A personal collection of original memorabilia about the first "It" girl - American actress, silent film star and symbol of the Roaring Twenties.
http://silentbeauties.blogspot.com.br/search/label/Clara%20Bow Some films by Clara on Silent Beauties blog.
http://theyhadfaces-silentfilmblog.blogspot.com.br/2010/10/clara-bow-beautiful-soul-abridged.html Very interesting article on Clara Bow in They Had Faces blog.
Clara Bow at three with a Teddy bear.
Clara Bow gets her makeup done by Max Factor - Around late 1920s
Charles "Buddy" Rogers and Clara Bow in Wings (1927)
PS= In real life Charles "Buddy" Rogers became husband of fellow silent actress Mary Pickford. They both had been married for years until Pickford's death.
Wings was the first film, and the only silent film, to win the Academy Award for Best Picture. Wings stars Clara Bow, Charles Buddy Rogers, and Richard Arlen.
Clara Bow winking, circa 1950. Rare image of an "older" Clara around age 45.
Clara Bow And Husband Rex Bell Open The 'It' Cafe on Vine Street near Hollywood Blvd. Los Angeles CA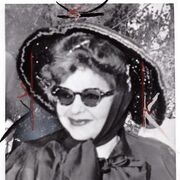 (NY13-Sept.27) ACTRESS REPORTED DEAD - Clara Bow, the "It" girl of silent films, was identified by Hollywood police as the woman who died early today in her Culver City, Calif., home. Miss Bow, 60, is shown in July 1962 as she attended the funeral of her husband, actor Rex Bell, from whom she had been separated for several years. (APWire photo) (See AP wire story) (df20925Fls) 1965